Respify 2.0 CPAP Cleaner & Sanitizer - Deluxe Package
Looking for an easy and effective way to clean your PAP, without breaking the bank?  Respify is the simple and affordable solution that has you covered both at home and on the go. 

Simply place your nasal interface, tubing and reservoir in the tote or Zip-It bag, activate Respify and seal. That's it! You are now free to go about your day, while Respify neutralizes bacteria and odor, leaving you with fresh, sanitized gear. 
INCLUDED
Respify 2.0 Device

3" x 3" x 1" - less than 1/2 pound
U.S. Plug and Charging Cable 
4+ Cleanings on a Single Charge

Sealed Tote 

16" x 10" x 7" 
Holds up to 2 sets of gear

Respify Sanitizing Bag

14" x 18" - choice of 3 colors
Ultra Portable, Ideal for Travel
RESPIFY ADVANTAGE
Compatible with all Sleep Equipment
No Adapters or Recurring Costs
No Risk to Machine Warranty
Respify Packages Include Everything Required
.
Respify 2.0 Universal Device
• Ultra Portable
• 4+ uses per charge
Respify Zip-It Sanitizing Bag
• Clean everything in one cycle
• No Adapters
• Choice of Color - Limited Time
US Plug & Charging Cable
No Risk to Machine Warranty
Clean everything in Single Cycle
100% Satisfaction Guarantee
30 Day No-Hassle Returns & U.S. Support
Free 3 Day Shipping ALL Orders $89 & Up
Same Day Shipping M-F Before 1PM CST
Clean in few easy steps.
Nasal Interface and Headset, Tubing and empty Water Reservoir "Ready" to be cleaned.
Optionally, the machine may also be cleaned. Simply unplug, remove and empty reservoir and place in bag with other gear (fits easily). We recommend doing this upfront with older machines and then every 3 or 4 weeks, inline with machine filter replacement.
Step 2
Place sleep equipment in bag, activate respify by pressing button, before placing in bag with gear.
Step 3
Seal and that's it. Go on with your day, while Respify's Active Air cleanses even the most difficult to reach areas, leaving you with fresh gear.
What About the CPAP Machine?
Because many CPAP Cleaners terminate on the "Machine," many consumers naturally assume the end goal is to "clean the machine."
In reality they terminate on the reservoir or outlet, to sanitize the water chamber, which acts as a bladder inside the machine, plus the tubing and nasal interface. Not all portable systems include a way to disinfect the CPAP mask or nasal cushions.
The downside to this approach in our opinion, is that the CPAP Machine warranty may become compromised.
Protect Your Investment
With Respify the CPAP Mask or Nasal Pillows, Tubing and Reservoir are sanitized independent of the machine, so you can address the 3 things that need it most, without worrying about potential warranty implications.
If the machine is older or the warranty consideration doesn't apply, optionally you may compliment the manufacturers guidance (wipe down the machine down every few weeks) by occasionally placing it inside the bag with the other gear.
If you decide to go this route, we recommend a cadence of 3 or 4 weeks, or at the same time as replacing the machine filter.
Peace of mind that won't break the bank.
Small in size, big in performance, experience the benefits of Respify's industry leading flexibility:
• One Solution for Home & Travel
• No Recurring Costs to Maintain Warranty
• Sanitize up to two sets of gear in one cycle
• No risk to PAP Machine Warranty
• Free Delivery over $89 + U.S. Support
I recommend this product
As I reviewed Respify's website I got the feeling their focus was on Providing quality products and customer service. I'm pleased to share they do both with exceptional results. Their product is value priced, my device arrived when scheduled and I've been enjoying the benefits of clean CPAP therapy since the first time I used it. Biggest plus is my wife doesn't have to nag me about cleaning my CPAP any more.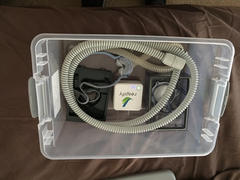 Donald - Thanks so much for your feedback, it is great to hear! We try to strive for excellent service, but certainly aren't perfect. It's good to hear that you appreciate the side perk of not hearing "When's the last time you cleaned your CPAP!:?" Thanks so much for your wonderful endorsement!
It's been over a year and I couldn't be more happy with this product. Thanks for making a well made affordable product/cleaner.
It is great, also affordable and compact. Sanitizes other things
Thanks so much for your support!
The Respify wooks well. Have one question. How many cycles does the unit do before it needs to be recharged? How many little blue lights should be on when I need to recharge? ( 0 on -- 1 on)? Thanks, Paul Magnant
Hi Paul - 1 battery indicator light is sufficient for a cleaning cycle. After that cycle, go ahead and recharge the device. Thanks for your review!
Love that you upgraded respify with a built in timer. I used to forget to turn the old one off and then have to recharge it. Also appreciate the battery indicator lights. My only small complaint is trying to open the box that is came in. My hands are not that big and the device was snug in the box.
Thank you for your continued support Cindy! Good feedback on the packaging. Thanks
{"id":4344343298111,"title":"Respify 2.0 CPAP Cleaner \u0026 Sanitizer - Deluxe Package","handle":"respify-active-air-2-0-cpap-cleaner-sanitizer-deluxe-home-travel-system","description":"\u003cmeta charset=\"utf-8\"\u003e\n\u003cp style=\"text-align: left;\"\u003eLooking for an easy and effective way to clean your PAP, without breaking the bank?  Respify is the simple and affordable solution that has you covered both at home and on the go. \u003cbr\u003e\u003c\/p\u003e\n\u003cp style=\"text-align: left;\"\u003e\u003cspan style=\"color: #000000;\"\u003eSimply place your nasal interface, tubing and reservoir in the tote or Zip-It bag, activate Respify and seal. That's it! You\u003c\/span\u003e\u003cspan style=\"color: #000000;\"\u003e are now free to go about your day, while Respify neutralizes bacteria and odor, leaving you with fresh, sanitized gear. \u003c\/span\u003e\u003c\/p\u003e\n\u003cp style=\"text-align: center;\"\u003e\u003cstrong\u003eINCLUDED\u003c\/strong\u003e\u003c\/p\u003e\n\u003cul\u003e\n\u003cli style=\"text-align: left;\"\u003e\u003cstrong\u003eRespify 2.0 Device\u003c\/strong\u003e\u003c\/li\u003e\n\u003cul style=\"text-align: left;\"\u003e\n\u003cli style=\"text-align: left;\"\u003e3\" x 3\" x 1\" - less than 1\/2 pound\u003c\/li\u003e\n\u003cli style=\"text-align: left;\"\u003eU.S. Plug and Charging Cable \u003c\/li\u003e\n\u003cli style=\"text-align: left;\"\u003e4+ Cleanings on a Single Charge\u003c\/li\u003e\n\u003c\/ul\u003e\n\u003cli style=\"text-align: left;\"\u003e\u003cstrong\u003eSealed Tote \u003c\/strong\u003e\u003c\/li\u003e\n\u003cul style=\"text-align: left;\"\u003e\n\u003cli\u003e16\" x 10\" x 7\" \u003c\/li\u003e\n\u003cli\u003eHolds up to 2 sets of gear\u003c\/li\u003e\n\u003c\/ul\u003e\n\u003cli style=\"text-align: left;\"\u003e\u003cstrong\u003eRespify Sanitizing Bag\u003c\/strong\u003e\u003c\/li\u003e\n\u003cul style=\"text-align: left;\"\u003e\n\u003cli\u003e14\" x 18\" - choice of 3 colors\u003c\/li\u003e\n\u003cli\u003eUltra Portable, Ideal for Travel\u003c\/li\u003e\n\u003c\/ul\u003e\n\u003c\/ul\u003e\n\u003cp style=\"text-align: center;\"\u003e\u003cb\u003eRESPIFY ADVANTAGE\u003c\/b\u003e\u003c\/p\u003e\n\u003cul\u003e\n\u003cli style=\"text-align: left;\"\u003eCompatible with all Sleep Equipment\u003c\/li\u003e\n\u003cli style=\"text-align: left;\"\u003eNo Adapters or Recurring Costs\u003c\/li\u003e\n\u003cli style=\"text-align: left;\"\u003eNo Risk to Machine Warranty\u003c\/li\u003e\n\u003c\/ul\u003e\n\u003cul\u003e\u003c\/ul\u003e\n\u003cmeta charset=\"utf-8\"\u003e","published_at":"2019-11-04T08:29:25-06:00","created_at":"2019-11-04T08:29:25-06:00","vendor":"Respify","type":"","tags":["cpap bag cleaner","respify 2.0 deluxe home and travel kit","respify cpap cleaner deluxe","respify deluxe","respify deluxe home and travel"],"price":13999,"price_min":13999,"price_max":13999,"available":false,"price_varies":false,"compare_at_price":15999,"compare_at_price_min":15999,"compare_at_price_max":15999,"compare_at_price_varies":false,"variants":[{"id":31867910455359,"title":"Gray","option1":"Gray","option2":null,"option3":null,"sku":"RESP2021GRAY","requires_shipping":true,"taxable":true,"featured_image":{"id":14770995265599,"product_id":4344343298111,"position":1,"created_at":"2020-05-30T12:37:18-05:00","updated_at":"2020-05-31T17:35:45-05:00","alt":"Respify 2.0 CPAP Cleaner \u0026 Sanitizer - Deluxe Package Respify Gray ","width":2048,"height":2048,"src":"https:\/\/cdn.shopify.com\/s\/files\/1\/2526\/3158\/products\/respify-20-cpap-cleaner-sanitizer-deluxe-package-respify-gray-997276.jpg?v=1590964545","variant_ids":[31867910455359,31867910488127,31867910520895]},"available":false,"name":"Respify 2.0 CPAP Cleaner \u0026 Sanitizer - Deluxe Package - Gray","public_title":"Gray","options":["Gray"],"price":13999,"weight":1542,"compare_at_price":null,"inventory_quantity":0,"inventory_management":"shopify","inventory_policy":"deny","barcode":"","featured_media":{"alt":"Respify 2.0 CPAP Cleaner \u0026 Sanitizer - Deluxe Package Respify Gray ","id":6937497239615,"position":1,"preview_image":{"aspect_ratio":1.0,"height":2048,"width":2048,"src":"https:\/\/cdn.shopify.com\/s\/files\/1\/2526\/3158\/products\/respify-20-cpap-cleaner-sanitizer-deluxe-package-respify-gray-997276.jpg?v=1590860238"}}},{"id":31867910488127,"title":"Pink","option1":"Pink","option2":null,"option3":null,"sku":"RESP2021PINK","requires_shipping":true,"taxable":true,"featured_image":{"id":14770995265599,"product_id":4344343298111,"position":1,"created_at":"2020-05-30T12:37:18-05:00","updated_at":"2020-05-31T17:35:45-05:00","alt":"Respify 2.0 CPAP Cleaner \u0026 Sanitizer - Deluxe Package Respify Gray ","width":2048,"height":2048,"src":"https:\/\/cdn.shopify.com\/s\/files\/1\/2526\/3158\/products\/respify-20-cpap-cleaner-sanitizer-deluxe-package-respify-gray-997276.jpg?v=1590964545","variant_ids":[31867910455359,31867910488127,31867910520895]},"available":false,"name":"Respify 2.0 CPAP Cleaner \u0026 Sanitizer - Deluxe Package - Pink","public_title":"Pink","options":["Pink"],"price":13999,"weight":1542,"compare_at_price":null,"inventory_quantity":0,"inventory_management":"shopify","inventory_policy":"deny","barcode":"","featured_media":{"alt":"Respify 2.0 CPAP Cleaner \u0026 Sanitizer - Deluxe Package Respify Gray ","id":6937497239615,"position":1,"preview_image":{"aspect_ratio":1.0,"height":2048,"width":2048,"src":"https:\/\/cdn.shopify.com\/s\/files\/1\/2526\/3158\/products\/respify-20-cpap-cleaner-sanitizer-deluxe-package-respify-gray-997276.jpg?v=1590860238"}}},{"id":31867910520895,"title":"Blue","option1":"Blue","option2":null,"option3":null,"sku":"RESP2021BLUE","requires_shipping":true,"taxable":true,"featured_image":{"id":14770995265599,"product_id":4344343298111,"position":1,"created_at":"2020-05-30T12:37:18-05:00","updated_at":"2020-05-31T17:35:45-05:00","alt":"Respify 2.0 CPAP Cleaner \u0026 Sanitizer - Deluxe Package Respify Gray ","width":2048,"height":2048,"src":"https:\/\/cdn.shopify.com\/s\/files\/1\/2526\/3158\/products\/respify-20-cpap-cleaner-sanitizer-deluxe-package-respify-gray-997276.jpg?v=1590964545","variant_ids":[31867910455359,31867910488127,31867910520895]},"available":false,"name":"Respify 2.0 CPAP Cleaner \u0026 Sanitizer - Deluxe Package - Blue","public_title":"Blue","options":["Blue"],"price":13999,"weight":1542,"compare_at_price":15999,"inventory_quantity":0,"inventory_management":"shopify","inventory_policy":"deny","barcode":"","featured_media":{"alt":"Respify 2.0 CPAP Cleaner \u0026 Sanitizer - Deluxe Package Respify Gray ","id":6937497239615,"position":1,"preview_image":{"aspect_ratio":1.0,"height":2048,"width":2048,"src":"https:\/\/cdn.shopify.com\/s\/files\/1\/2526\/3158\/products\/respify-20-cpap-cleaner-sanitizer-deluxe-package-respify-gray-997276.jpg?v=1590860238"}}}],"images":["\/\/cdn.shopify.com\/s\/files\/1\/2526\/3158\/products\/respify-20-cpap-cleaner-sanitizer-deluxe-package-respify-gray-997276.jpg?v=1590964545","\/\/cdn.shopify.com\/s\/files\/1\/2526\/3158\/products\/copy-of-untitled-40_7000383c-8447-46d1-a0f1-a43bdda0f180.jpg?v=1591295341","\/\/cdn.shopify.com\/s\/files\/1\/2526\/3158\/products\/copy-of-copy-of-copy-of-copy-of-copy-of-copy-of-co_3_ada2fe2a-c2b2-4ae6-8348-5e70099112cc.jpg?v=1591295351","\/\/cdn.shopify.com\/s\/files\/1\/2526\/3158\/products\/respify-20-cpap-cleaner-sanitizer-deluxe-package-r_1.jpg?v=1591295351","\/\/cdn.shopify.com\/s\/files\/1\/2526\/3158\/products\/add-a-heading-1_3e9e9c0c-38de-4d2e-b041-4d1a2365f06f.jpg?v=1591295351","\/\/cdn.shopify.com\/s\/files\/1\/2526\/3158\/products\/respify-20-cpap-cleaner-sanitizer-deluxe-package-respify-680365.jpg?v=1591295351","\/\/cdn.shopify.com\/s\/files\/1\/2526\/3158\/products\/respify-20-cpap-cleaner-sanitizer-deluxe-package-r.jpg?v=1591295351","\/\/cdn.shopify.com\/s\/files\/1\/2526\/3158\/products\/respify-20-cpap-cleaner-sanitizer-deluxe-package-respify-364637.jpg?v=1591295351","\/\/cdn.shopify.com\/s\/files\/1\/2526\/3158\/products\/respify-20-cpap-cleaner-sanitizer-deluxe-package-r_3.jpg?v=1591295351","\/\/cdn.shopify.com\/s\/files\/1\/2526\/3158\/products\/respify-20-cpap-cleaner-sanitizer-deluxe-package-respify-979255.jpg?v=1591295351","\/\/cdn.shopify.com\/s\/files\/1\/2526\/3158\/products\/respify-20-cpap-cleaner-sanitizer-deluxe-package-r_2.jpg?v=1591295351"],"featured_image":"\/\/cdn.shopify.com\/s\/files\/1\/2526\/3158\/products\/respify-20-cpap-cleaner-sanitizer-deluxe-package-respify-gray-997276.jpg?v=1590964545","options":["Color"],"media":[{"alt":"Respify 2.0 CPAP Cleaner \u0026 Sanitizer - Deluxe Package Respify Gray ","id":6937497239615,"position":1,"preview_image":{"aspect_ratio":1.0,"height":2048,"width":2048,"src":"https:\/\/cdn.shopify.com\/s\/files\/1\/2526\/3158\/products\/respify-20-cpap-cleaner-sanitizer-deluxe-package-respify-gray-997276.jpg?v=1590860238"},"aspect_ratio":1.0,"height":2048,"media_type":"image","src":"https:\/\/cdn.shopify.com\/s\/files\/1\/2526\/3158\/products\/respify-20-cpap-cleaner-sanitizer-deluxe-package-respify-gray-997276.jpg?v=1590860238","width":2048},{"alt":null,"id":6941815013439,"position":2,"preview_image":{"aspect_ratio":1.0,"height":1048,"width":1048,"src":"https:\/\/cdn.shopify.com\/s\/files\/1\/2526\/3158\/products\/copy-of-untitled-40_7000383c-8447-46d1-a0f1-a43bdda0f180.jpg?v=1590964005"},"aspect_ratio":1.0,"height":1048,"media_type":"image","src":"https:\/\/cdn.shopify.com\/s\/files\/1\/2526\/3158\/products\/copy-of-untitled-40_7000383c-8447-46d1-a0f1-a43bdda0f180.jpg?v=1590964005","width":1048},{"alt":null,"id":6941815078975,"position":3,"preview_image":{"aspect_ratio":1.0,"height":1280,"width":1280,"src":"https:\/\/cdn.shopify.com\/s\/files\/1\/2526\/3158\/products\/copy-of-copy-of-copy-of-copy-of-copy-of-copy-of-co_3_ada2fe2a-c2b2-4ae6-8348-5e70099112cc.jpg?v=1590964006"},"aspect_ratio":1.0,"height":1280,"media_type":"image","src":"https:\/\/cdn.shopify.com\/s\/files\/1\/2526\/3158\/products\/copy-of-copy-of-copy-of-copy-of-copy-of-copy-of-co_3_ada2fe2a-c2b2-4ae6-8348-5e70099112cc.jpg?v=1590964006","width":1280},{"alt":null,"id":6941833691199,"position":4,"preview_image":{"aspect_ratio":0.8,"height":1280,"width":1024,"src":"https:\/\/cdn.shopify.com\/s\/files\/1\/2526\/3158\/products\/respify-20-cpap-cleaner-sanitizer-deluxe-package-r_1.jpg?v=1590964396"},"aspect_ratio":0.8,"height":1280,"media_type":"image","src":"https:\/\/cdn.shopify.com\/s\/files\/1\/2526\/3158\/products\/respify-20-cpap-cleaner-sanitizer-deluxe-package-r_1.jpg?v=1590964396","width":1024},{"alt":null,"id":6941815046207,"position":5,"preview_image":{"aspect_ratio":1.0,"height":1280,"width":1280,"src":"https:\/\/cdn.shopify.com\/s\/files\/1\/2526\/3158\/products\/add-a-heading-1_3e9e9c0c-38de-4d2e-b041-4d1a2365f06f.jpg?v=1590964005"},"aspect_ratio":1.0,"height":1280,"media_type":"image","src":"https:\/\/cdn.shopify.com\/s\/files\/1\/2526\/3158\/products\/add-a-heading-1_3e9e9c0c-38de-4d2e-b041-4d1a2365f06f.jpg?v=1590964005","width":1280},{"alt":"Respify 2.0 CPAP Cleaner \u0026 Sanitizer - Deluxe Package Respify ","id":6937495568447,"position":6,"preview_image":{"aspect_ratio":1.0,"height":2048,"width":2048,"src":"https:\/\/cdn.shopify.com\/s\/files\/1\/2526\/3158\/products\/respify-20-cpap-cleaner-sanitizer-deluxe-package-respify-680365.jpg?v=1590860159"},"aspect_ratio":1.0,"height":2048,"media_type":"image","src":"https:\/\/cdn.shopify.com\/s\/files\/1\/2526\/3158\/products\/respify-20-cpap-cleaner-sanitizer-deluxe-package-respify-680365.jpg?v=1590860159","width":2048},{"alt":null,"id":6941821599807,"position":7,"preview_image":{"aspect_ratio":0.799,"height":1280,"width":1023,"src":"https:\/\/cdn.shopify.com\/s\/files\/1\/2526\/3158\/products\/respify-20-cpap-cleaner-sanitizer-deluxe-package-r.jpg?v=1590964148"},"aspect_ratio":0.799,"height":1280,"media_type":"image","src":"https:\/\/cdn.shopify.com\/s\/files\/1\/2526\/3158\/products\/respify-20-cpap-cleaner-sanitizer-deluxe-package-r.jpg?v=1590964148","width":1023},{"alt":"Respify 2.0 CPAP Cleaner \u0026 Sanitizer - Deluxe Package Respify ","id":6937502875711,"position":8,"preview_image":{"aspect_ratio":1.0,"height":1048,"width":1048,"src":"https:\/\/cdn.shopify.com\/s\/files\/1\/2526\/3158\/products\/respify-20-cpap-cleaner-sanitizer-deluxe-package-respify-364637.jpg?v=1590860399"},"aspect_ratio":1.0,"height":1048,"media_type":"image","src":"https:\/\/cdn.shopify.com\/s\/files\/1\/2526\/3158\/products\/respify-20-cpap-cleaner-sanitizer-deluxe-package-respify-364637.jpg?v=1590860399","width":1048},{"alt":null,"id":6941838245951,"position":9,"preview_image":{"aspect_ratio":1.0,"height":1048,"width":1048,"src":"https:\/\/cdn.shopify.com\/s\/files\/1\/2526\/3158\/products\/respify-20-cpap-cleaner-sanitizer-deluxe-package-r_3.jpg?v=1590964540"},"aspect_ratio":1.0,"height":1048,"media_type":"image","src":"https:\/\/cdn.shopify.com\/s\/files\/1\/2526\/3158\/products\/respify-20-cpap-cleaner-sanitizer-deluxe-package-r_3.jpg?v=1590964540","width":1048},{"alt":"Respify 2.0 CPAP Cleaner \u0026 Sanitizer - Deluxe Package Respify ","id":6937495961663,"position":10,"preview_image":{"aspect_ratio":1.0,"height":1000,"width":1000,"src":"https:\/\/cdn.shopify.com\/s\/files\/1\/2526\/3158\/products\/respify-20-cpap-cleaner-sanitizer-deluxe-package-respify-979255.jpg?v=1590860178"},"aspect_ratio":1.0,"height":1000,"media_type":"image","src":"https:\/\/cdn.shopify.com\/s\/files\/1\/2526\/3158\/products\/respify-20-cpap-cleaner-sanitizer-deluxe-package-respify-979255.jpg?v=1590860178","width":1000},{"alt":null,"id":6941833658431,"position":11,"preview_image":{"aspect_ratio":0.8,"height":1280,"width":1024,"src":"https:\/\/cdn.shopify.com\/s\/files\/1\/2526\/3158\/products\/respify-20-cpap-cleaner-sanitizer-deluxe-package-r_2.jpg?v=1590964396"},"aspect_ratio":0.8,"height":1280,"media_type":"image","src":"https:\/\/cdn.shopify.com\/s\/files\/1\/2526\/3158\/products\/respify-20-cpap-cleaner-sanitizer-deluxe-package-r_2.jpg?v=1590964396","width":1024}],"content":"\u003cmeta charset=\"utf-8\"\u003e\n\u003cp style=\"text-align: left;\"\u003eLooking for an easy and effective way to clean your PAP, without breaking the bank?  Respify is the simple and affordable solution that has you covered both at home and on the go. \u003cbr\u003e\u003c\/p\u003e\n\u003cp style=\"text-align: left;\"\u003e\u003cspan style=\"color: #000000;\"\u003eSimply place your nasal interface, tubing and reservoir in the tote or Zip-It bag, activate Respify and seal. That's it! You\u003c\/span\u003e\u003cspan style=\"color: #000000;\"\u003e are now free to go about your day, while Respify neutralizes bacteria and odor, leaving you with fresh, sanitized gear. \u003c\/span\u003e\u003c\/p\u003e\n\u003cp style=\"text-align: center;\"\u003e\u003cstrong\u003eINCLUDED\u003c\/strong\u003e\u003c\/p\u003e\n\u003cul\u003e\n\u003cli style=\"text-align: left;\"\u003e\u003cstrong\u003eRespify 2.0 Device\u003c\/strong\u003e\u003c\/li\u003e\n\u003cul style=\"text-align: left;\"\u003e\n\u003cli style=\"text-align: left;\"\u003e3\" x 3\" x 1\" - less than 1\/2 pound\u003c\/li\u003e\n\u003cli style=\"text-align: left;\"\u003eU.S. Plug and Charging Cable \u003c\/li\u003e\n\u003cli style=\"text-align: left;\"\u003e4+ Cleanings on a Single Charge\u003c\/li\u003e\n\u003c\/ul\u003e\n\u003cli style=\"text-align: left;\"\u003e\u003cstrong\u003eSealed Tote \u003c\/strong\u003e\u003c\/li\u003e\n\u003cul style=\"text-align: left;\"\u003e\n\u003cli\u003e16\" x 10\" x 7\" \u003c\/li\u003e\n\u003cli\u003eHolds up to 2 sets of gear\u003c\/li\u003e\n\u003c\/ul\u003e\n\u003cli style=\"text-align: left;\"\u003e\u003cstrong\u003eRespify Sanitizing Bag\u003c\/strong\u003e\u003c\/li\u003e\n\u003cul style=\"text-align: left;\"\u003e\n\u003cli\u003e14\" x 18\" - choice of 3 colors\u003c\/li\u003e\n\u003cli\u003eUltra Portable, Ideal for Travel\u003c\/li\u003e\n\u003c\/ul\u003e\n\u003c\/ul\u003e\n\u003cp style=\"text-align: center;\"\u003e\u003cb\u003eRESPIFY ADVANTAGE\u003c\/b\u003e\u003c\/p\u003e\n\u003cul\u003e\n\u003cli style=\"text-align: left;\"\u003eCompatible with all Sleep Equipment\u003c\/li\u003e\n\u003cli style=\"text-align: left;\"\u003eNo Adapters or Recurring Costs\u003c\/li\u003e\n\u003cli style=\"text-align: left;\"\u003eNo Risk to Machine Warranty\u003c\/li\u003e\n\u003c\/ul\u003e\n\u003cul\u003e\u003c\/ul\u003e\n\u003cmeta charset=\"utf-8\"\u003e"}